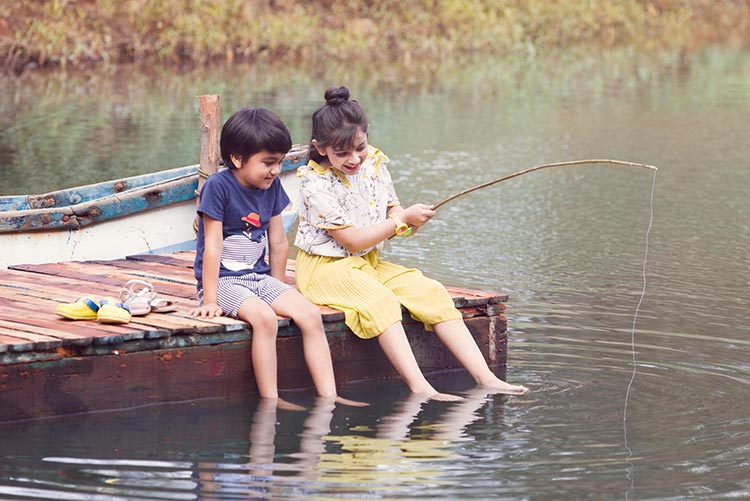 When it comes to buying clothes for my children, I opt for outfits that can be thrown on in the morning without much thought. Between getting ready, cooking, finding my husband's other sock, the last thing I want to do is sit around matching outfits. Looks like someone in the fashion world understood the trouble and came up with a perfect solution – co-ord sets for kids!
"Co-ord sets" are colour and style coordinated clothing sets that don't need to be matched with other individual clothes to make the perfect outfit – they are already the perfect outfit! No more wasting time trying on dozens of combinations to find a good look! Let Hopscotch do it for you!
Shorts co-ord sets
These are the most popular kind of co-ord sets for children. They are usually best suited for summer and are incredibly comfortable without compromising on the style factor. Get a few in bright colours/prints and mix and match to create your own sets.
When to wear – Casual day outings, School picnics, Fairs, Amusement park, and whenever your child wants an amazing Instagram moment!
Pants co-ord set
Pants co-ord sets are a little more formal when compared to short co-ords. These sets are perfect for a night event or special occasions that will require your child to dress up a little more. I'm also in love with athleisure co-ord sets such as sweatpant sets and jogger sets that make for perfect travel outfits.
When to wear- Formal events, special occasions, and while travelling (athleisure sets)
Skirt co-ord set
How cute are these skirt co-ords sets! If I didn't care about variety, I wouldn't mind buying just skirt sets for my little girl. From denim skirts to sets in chiffon and lace, the choices are unparalleled with these co-ord sets. What can be a better birthday outfit for your little girl than a skirt set that makes her look like a modern princess? And these skirt sets also look amazing in pictures, so hoard up on clothing sets when you go for your next vacation!
When to wear- Birthdays, vacations, events that involve photoshoots!
Every child needs to own a co-ord set. And with amazing discounts going on, you really don't have a reason not to purchase a cute little set for your little one!