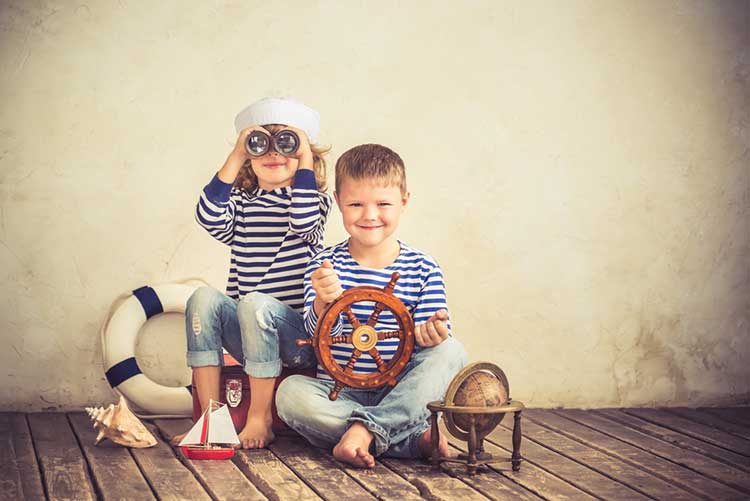 'Aye Aye, Captain!'
For this week's Fashion Friday inspiration, we decided to look beyond the lands and boy, oh boy, did we find some treasure! Our style trend for this Friday is inspired by the sea and sailors. Guessed it yet? We are talking about the Nautical trend, of course!
The nautical style takes its inspiration from the sea, bright skies, ships, sailors, and navy uniforms. Imagine striped tees, casual blazers with brass-buttons, summer dresses with minimal print, bell-bottom pants, and sailor hats, of course! Nautical style is timeless and will never fail to make one look fashionable and put-together.
If you are looking for a fool-proof styling trend that makes your child look polished, Nautical trend is your answer. You should definitely include some nautical-inspired-pieces in your kid's wardrobe this summer. Here are some chic and modern nautical fashion pieces for your little ones!
Nautical top wear for the little captains!
One nautical piece you should definitely get your hands on is a Breton tee. A Breton tee is basically a cotton tee-shirt with horizontal stripes in blue, white, or black. It's not only incredibly easy to style but also a nautical style staple. Other than the Breton tee, you can go for top-wear in blue, white, red, and yellow in cotton and linen.
Patterns- Horizontal stripes, Minimal detailing, Small prints, and Light embroidery.
Style- Could shoulder sleeves, Polo neck, Ruffled sleeves, and Sleeveless.
Sailing in style!
If you ever were to look at pictures of nautical-inspired fashion, I guarantee you that you will chance upon a girl in a pretty blue or white dress, probably on a yacht. I absolutely love nautical dresses, they are incredibly elegant and pretty. Think of structured dresses in soft prints that cut right above the knee. Accessorise with a headband and bright sunglasses and your little girl will look like she is ready for a yacht party!
Patterns- Horizontal stripes, Vertical stripes, and Anchor print.
Style- Could shoulder sleeves, Polo neck, Notched collar, Sleeveless, and Halter neck.
Nautical sets to brave the storm!
Co-ord sets look adorable on children and they are highly functional. These nautical sets make for the perfect outfit for photoshoots or a simple day out with the family. How ridiculously adorable is the last nautical onesie? Perfect for your little bubba!
Which one of these nautical pieces is your favourite? Style your little one with a nautical piece and flaunt it on moments or on Instagram with the #HopscotchgoesNautical!