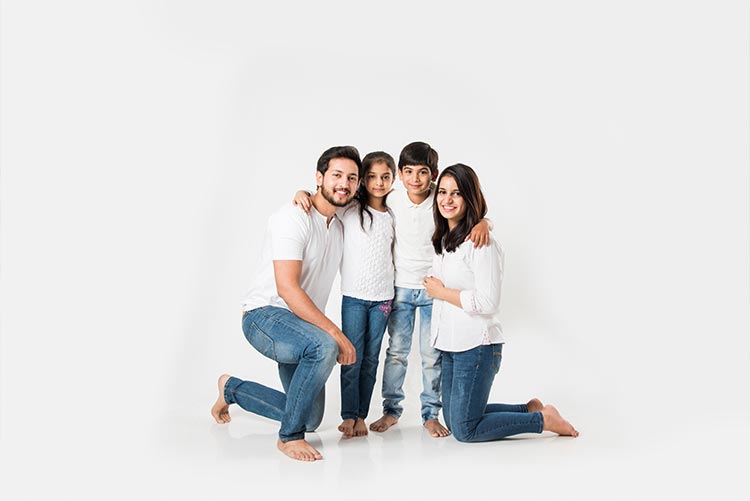 The #twinning craze has taken over the world and what started off as a fashion statement for actual twins is being flaunted by couples, siblings, parent-child duos. The new trend embraces synchronised colours, trendy prints, and matching outfits. If you're planning to sport a twin avatar with your little one this Valentine's day from the Valentine's Day twin collection, you should head this-a-way!

Wondering how you can style twin outfits? What to do on Valentine's day? Read ahead.

Father-son and father-daughter twin outfits
Dads these days leave no stone unturned when it comes to kids fashion. With Valentine's Day approaching on February 14, parents would want to get creative and match their outfits with those of their children. So, here we are with a whole new twin wardrobe starring the dad and child!

Dads, take note of this adorable Valentine's Day twin collection for you and your little one. You could get text tees with "Best Dad" and "Best Son" written on them or go desi with the "Papa ki Pari" texts. If you don't prefer text tees, you can always pick up matching t-shirts like these. Whatever be the choice, I'm sure the twin outfits are surely going to turn heads!

Mother-son and mother-daughter twin outfits
Mothers who love their babies to bits are already acing the style twin-game with matching gowns and outfits at birthday parties. So they're most definitely not going to shy away with the Valentine's Day twinning. Your little princess probably borrows some of your accessories and styles already so she would also be thrilled to twin with you!
So, mamas and the mama's boy or mama's girl can also for text tees with the classic "Mama Bear" and "Baby Bear" text tees. You can sport these with denim pants or shorts. Mom-daughter duos can also opt for tutu skirts with their matching tees. You can even show matching accessories like headbands or bracelets!
Sister-brother-brother-sister twin outfits
My mom would dress my sister and me in co-ordinated colours at every family event we went to. We sure looked goofy back then but who'd think this would be a trend in itself! Siblings share many things and twin outfits would complement them beautifully – be it sisters, brothers or a brother-sister duo.

Get your kids one of these adorable text tees with mischievous prints and designs. There is also an exclusive range of sibling outfits – one of which is a onesie that can be worn by a brother or a sister. Matching accessories for girls and contrasting caps for boys would surely amp up the style quotient this Valentine's Day! So, what are you waiting for!

Did you twin with your siblings in your childhood? What do you think of the Valentine's Day twin collection? Let me know in the comments!