I have always invested in all-things natural, especially when my hair comes into the picture. Even though I've been blessed with beautiful hair (thanks to my maternal family), exposure to pollution and other damaging factors have taken a heavy toll on my hair!
Last year, I discovered a miraculous remedy right here in my kitchen, and I've been obsessed with it ever since, ditching all chemical-infused haircare products thereafter. You guys, curd is THE solution to all your hair problems. The benefits of curd for your hair are countless, and with those, I'm also going to list out the number of ways in which you can use curd on a daily basis. 
If you're wondering, "should I use curd on my hair?" read on!
The three major benefits of curd for your hair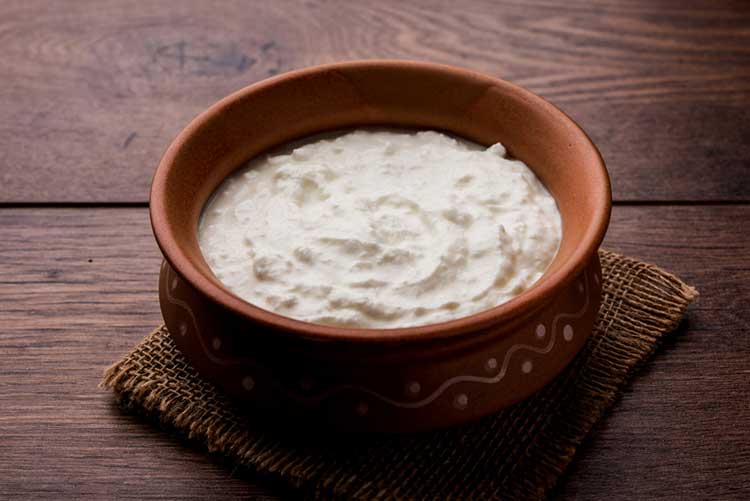 Curd is excellent for dandruff control. Hair health starts at the scalp, and if you have a healthy scalp, you'll eventually have luscious tresses. Dandruff is one hair issue that most of us grapple with! Well, thanks to the anti-inflammatory properties of using curd on your hair, you can notice a significant reduction in your dandruff almost immediately. Curd is also said to have antimicrobial properties that help treat infections of the scalp.
Curd fosters hair growth. Curd is loaded with Vitamin B, which promotes the growth of healthy hair at a faster rate! Apart from a healthy scalp, strength is what your hair relies on to grow at a naturally fast pace. Curd also has zinc which is awesome for your hair!
Curd softens your hair. Probably one of the most credible claims surrounding the home remedy, I can personally vouch for this one. A little bit of curd post-shampoo can have miraculous effects on your hair! If you have frizzy hair, apply curd on a daily basis for at least 5 days, and you'll notice a visible difference. Curd is also amazing if you want shiny, silky hair!
Now that you're all caught up on the many benefits of curd for your hair, let's look at all the ways you can include it in your hair care regime at home! You have the opportunity to go really creative with this one.
Curd, Olive Oil, and Apple Cider Vinegar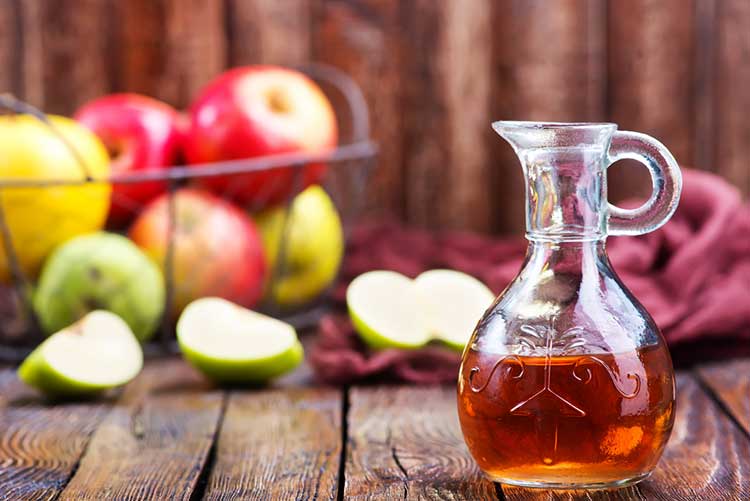 We all know the benefits of olive oil for your skin! Enter the super hair mask! This wondrous hair mask is ideal if you're looking for deep conditioning, especially when the chilly winter air bites at your hair! To treat your moisture-deprived locks with this recipe, you'll need about 3 tbsp of curd, 1 tbsp of olive oil and apple cider vinegar each. Liberally apply the mask all over your scalp and hair and let it stay for 30 minutes. Rinse with shampoo. Do not use a conditioner!
Curd, Gram Flour (Besan), and Olive Oil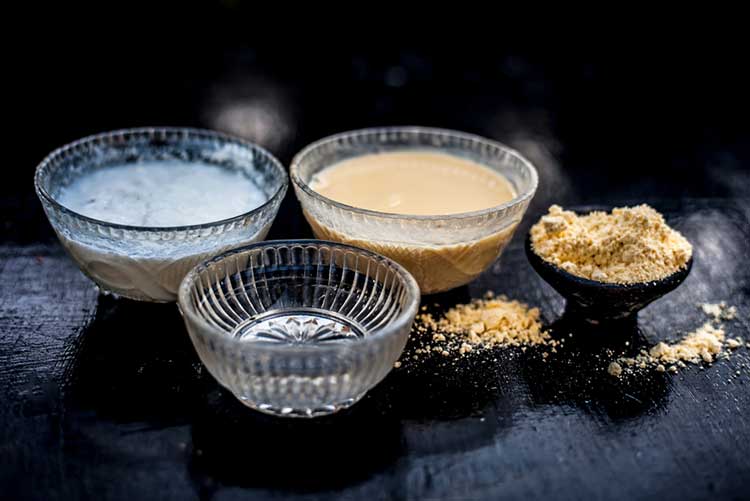 This recipe is packed with Vitamins A and E, both of which are amazing cures for dry hair. While the gram flour will strengthen your hair from the roots, olive oil will soften it, providing it with a much-needed lustre. To ace the recipe, you'll need 3 tbsp of olive oil and 6 tbsp of curd and gram flour each. Spread the mixture evenly onto your hair and leave it on for at least 25 minutes. Rinse with a mild shampoo. No need for a conditioner!
Curd, Onion Juice, and Fenugreek Seeds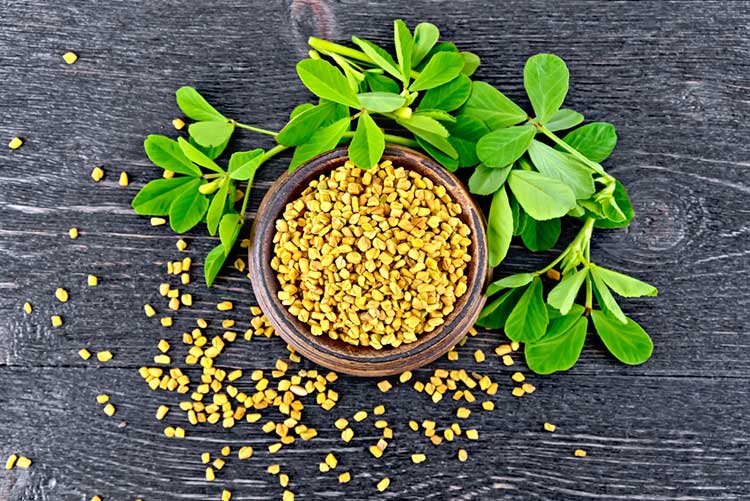 A very effective remedy for those stubborn dandruff flakes, this mask should be kept on for as long as possible (I typically let it stay for at least 1.5 hours). To make the recipe at home, you'll need 4 tbsp of curd, 1 tsp of fenugreek and 2 tbsp of onion juice. The solution will stave off dandruff and offer a natural smoothness to your hair texture.
Curd and Eggs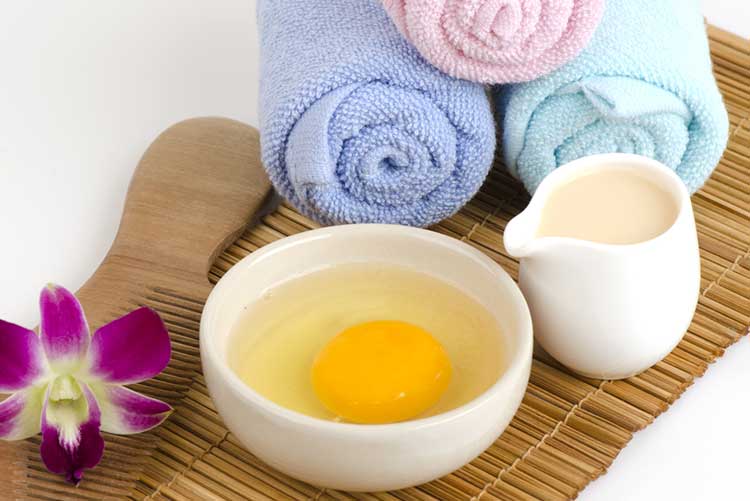 A favourite in Indian households, this hair mask recipe is suitable for all age groups! An exceptional natural anti-dandruff remedy, it rids your hair of the bacteria that causes dandruff in the first place. While staving off dandruff, this hair mask also strengthens your hair and fosters growth! The eggs help reconstruct damaged hair cells thereby rendering it moisturised and smooth. For the recipe, you'll need 2 tbsp of curd and mix it with 2 eggs. Apply all over the scalp and let it stay for 30 minutes. Since the eggs give off a raw pungent odor, you might need to use a stronger shampoo to rinse it off. Again, avoid using a conditioner post shampoo.
Curd, Bhingraj, and Quinoa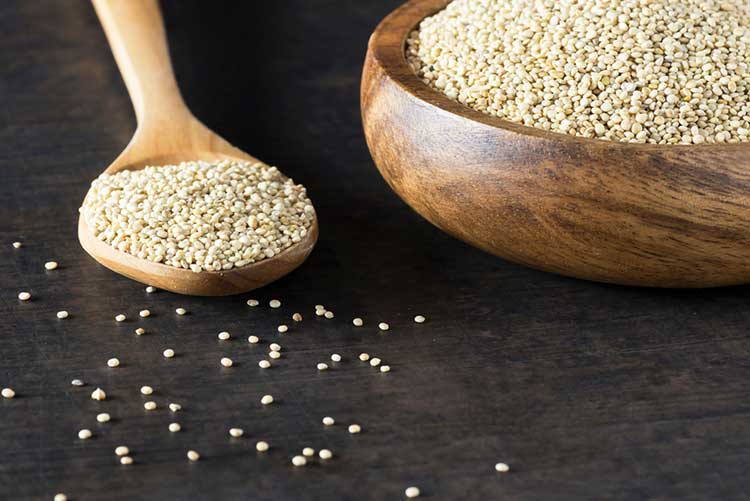 Bhingraj is a popular medicinal herb growing in the moist areas of India. Ayurveda claims Bhingraj to be a powerful liver cleanser and an extraordinary remedy for damaged hair. Often regarded as 'rayasana' it is known for reinvigorating and stalling the much-loathed process of ageing! Bhingraj oil can be found in any supermarket near your house. You'll need 3 tbsp of curd and quinoa each along with 1 tbsp of Bhingraj oil for this hair mask recipe. Apply the mixture on your hair and leave it on for at least 30 minutes. Rinse with a mild shampoo.
Curd and Curry Leaves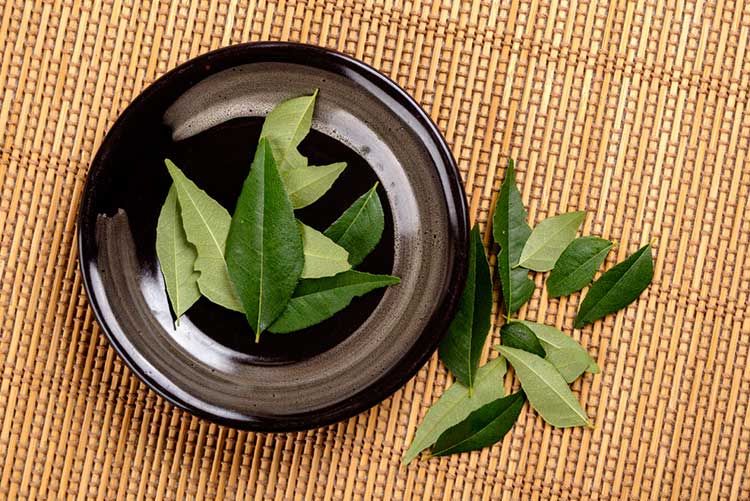 Packed with proteins and an essential element known as beta-carotene, curry leaves are considered to be extremely beneficial for hair. When combined with curd, it fosters the growth of healthy, shiny hair! Grind a handful of curry leaves in the grinder and mix with 1 bowl of curd. Apply this mixture and cover the tips of your hair with it generously! Let it stay for about 45 minutes and rinse off with a mild shampoo.
Curd, Coconut Oil, Argan Oil, and Almond Oil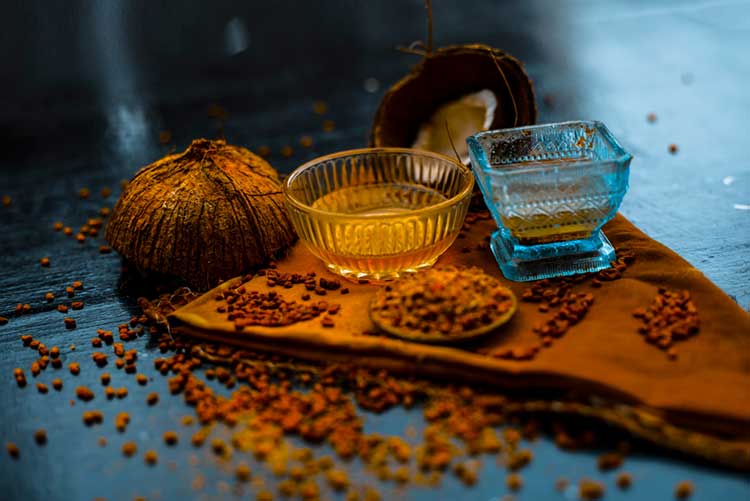 If grey hair is your biggest foe, then this mixture is your saving grace! Take 2 tbsp of curd and add 1 tbsp each of coconut oil, argan oil, and almond oil. Apply this mask evenly on hair and scalp and leave it on overnight! Upon rinsing, your hair will become notably softer, smooth, silky, manageable and you'll finally regain that brilliant shine!
These are some of my most trusted hair masks made with curd! My mane has regained most of its natural shine and I've completely steered cleared off store-bought conditioners.
Do let me know which ones you tried out at home and I'll be more than happy to share more awesome recipes in the future!