I love the season of til, kites, and bonfires! Makar Sakranti in India is a harvest festival that goes by different names in different states. In Tamil Nadu, it is known as Pongal, Lohri in Punjab, Bhogali Bihu in Assam, Uttarayan in Gujarat, and so on. In its essence, the festival welcomes the beautiful season of Spring!
Even though the names of the festival may differ, the tradition surrounding food is pretty much the same.
Mentioned below are a few Makar Sakranti special food items that will set the festivity tone for you and your family!
Gajak or Til ke Ladddoo
When I think of Makar Sakranti and home, the familiar, warm aroma of laddoos being cooked in the kitchen fills my heart with so much happiness! The recipe is super easy to put together.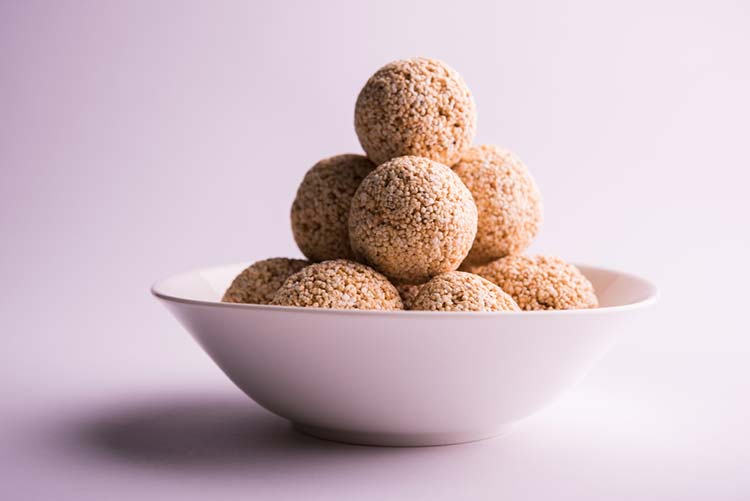 Ingredients
Sesame seeds
Peanuts
Dried coconut
Cardamom powder
Jaggery syrup
Recipe
Dry roast all ingredients separately (sesame seeds, peanuts, coconut powder)
Pound the roast peanuts into a powdered form.
Next, mix all ingredients together in a bowl, except jaggery syrup.
Pour this mixture in the pan containing the jaggery syrup, and mix properly with a ladle.
When the mixture is still hot, make small laddoos out of it (if too hot, wait for some time).
I also use a steel ladle to scrape the whole thing out thoroughly.
Til waale Paneer
One of my favourite dishes to hog on during the Pongal festival, I love this recipe and got it from my mother (the authentic Til-E-Paneer creator)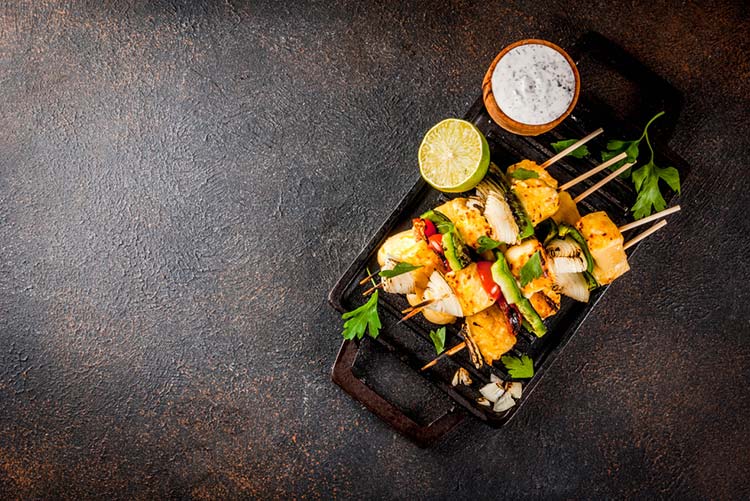 Ingredients
Paneer or cottage cheese (at least 500 gms)
Black pepper powder
Ginger garlic paste
Green chillies (washed and chopped)
Coriander leaves (washed and chopped)
Roasted white sesame seeds
Yoghurt
Lemon and onions (for garnish)
Salt (to taste)
Oil (for the paneer)
Recipe
Mix all ingredients together in a big howl. Leave the oil and garnishes for later.
Let this mixture stay for at least half n hour.
Preheat the oven to 200C.
Place the paneer in a pan and bake for at least 15 minutes.
Alternatively, if you have a griller at home, you can also try grilling the paneer!
I love both the methods.
Cool it and serve with lemon slices and onion rings.
Vegetable Pongal
I love Pongal! It is my favourite dish to turn back to after I've had a long tiring day! The recipe is so easy, you can put it together in a jiffy!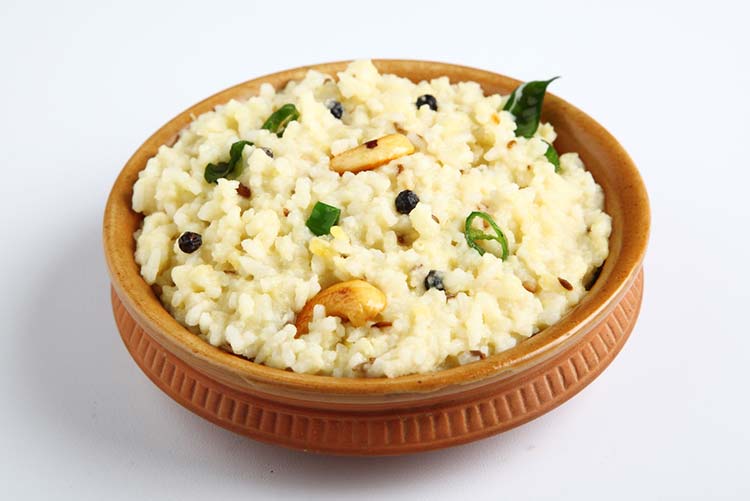 Ingredients
Moong dal
Rice
Cumin seeds
Asafoetida
Ginger (washed and chopped)
Salt (to taste)
Cashews
Curry leaves
Whole black or white pepper seeds
Recipe
Roast the moong dal till it turns brown and gives off a nice aroma. Turn the gas stove off.
Then add the rice in the same bowl.
Rinse both dal and rice thoroughly with water.
Drain and put the mix in a pressure cooker.
Add cumin seeds, asafoetida, ginger, and salt together with dal and rice.
Pour water in it till ingredients have been completely immersed.
Pressure cook till 2 whistles.
Let it cool down.
In another small pan, heat 2 tbsp of ghee and add cumin seeds, cashews, curry leaves, and black/white pepper seeds.
When the seeds start to splutter and the mixture gives off a nice aroma, turn off the gas stove.
Now, pour the entire tempering on the Pongal and mix very well.
Cover it with a lid before serving with coconut chutney.
Sooji and Badam Halwa
Nostalgia and sooji halwa go hand in hand! I would often be the one taking the last halwa bite at home, whenever my mother would make!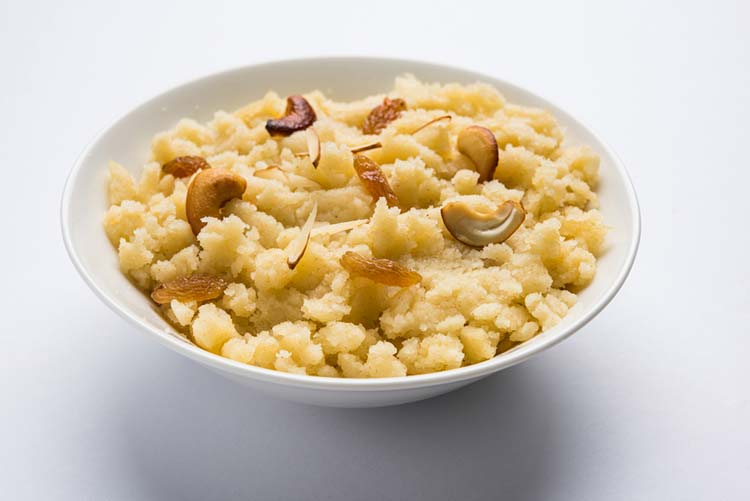 Ingredients
1 cup roasted semolina
Blanched and peeled almonds (½ cup)
Ghee
Sugar
Saffron
Milk
Cardamom powder
Recipe
Pat dry the almonds and leave some of it for garnish.
Crush the rest of the almonds into a fine powder.
Heat half cup of ghee and saute the almond powder till it turns golden.
Add the semolina and sugar and mix thoroughly.
Add the milk and stir well again. Let it cook for 10 minutes, at least.
Add saffron and cook till the halwa grows thick in consistency.
Add cardamom powder, almonds for garnish and serve hot.
Ellu Bella
When you're in Karnataka, your neighbours are sure to shower you with this amazingly delicious Makar Sakranti snack, which is not only lip-smacking but super easy to put together.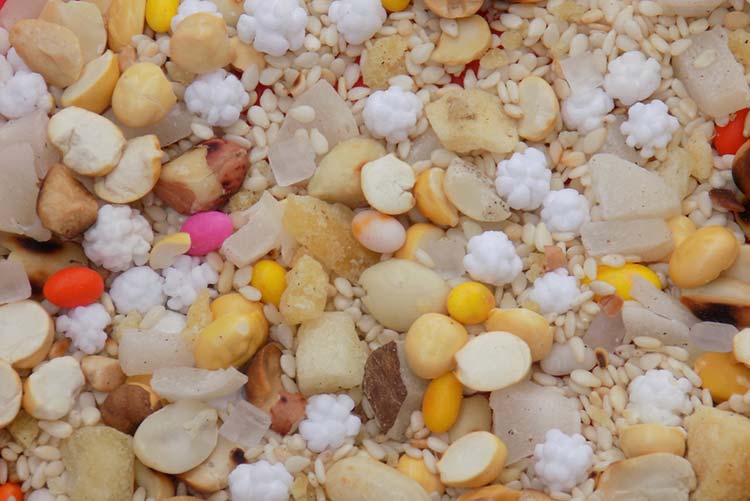 Ingredients
¼ cup of fried gram dal
¼ cup roasted peanuts
3 tbsp of coconut pieces
2 tbsp of white sesame seeds
¼ cup of jaggery (break it into pieces)
2 tbsp sugar balls
Fennel seeds coated with sugar
Recipe
Microwave the peanuts for about 3 minutes and take them out on a piece of cloth. Rub it together to remove the skin. Break the peanuts into two and keep aside.
Sun dry the coconut pieces and jaggery. Roast the sesame seeds till they give off a nice aroma and let them cool down.
In a large bowl, take the peanuts, dal, sugar balls, jaggery and coconut pieces.
Mix all ingredients thoroughly and store in an air-tight container.
Distribute happiness to friends and family!
Sweet Pongal
Another one of my favourite Makar Sankranthi special delicacy, this one brings back a thousand memories from childhood days spent at my Granny's!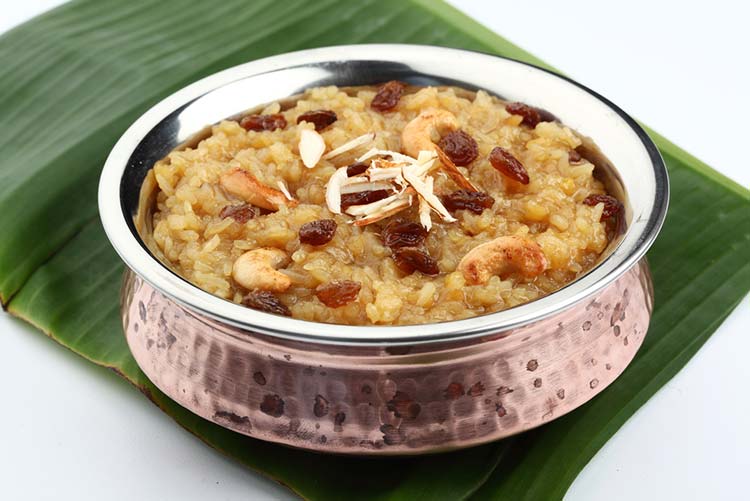 Ingredients
½ a cup of white rice
½ a cup of moong dal
Cardamom powder
A dash of camphor
3 tbsp of Ghee (you might need more)
1 tbsp of raisins
Cloves (optional)
10 cashew nuts
2 tbsp of coconut pieces (either chopped or sliced)
Recipe
Dry roast the dal in a pressure cooker till it gives off a nice aroma.
Add the rice in the cooker and rinse with water.
Add water and pressure cook the dal and rice for 3 whistles.
Remove the lid and filter the jaggery syrup into the dal and rice along with the cardamom powder.
Mix thoroughly and cook on a medium-low flame until the jaggery sticks with the rice properly.
Fry the coconut pieces, raisins, cloves, and cashew nuts together in Ghee till they turn aromatic.
Add a dash of camphor in the mix and stir well.
Add this tempering to the Pongal and mix well.
Cool it down before serving!
You are sure to love these Makar Sakranti special food items! Do let me know which ones you made at home and how you celebrated the harvest festival!