If you have a bunch of fussy eaters at home who would rather grab a packet of chips or instant noodles than eat a healthy balanced meal, then it's time you got more creative with your food ideas!
I used to love French toasts and Bread Pakodas as a kid, so I thought I'll create a list of some amazing, lip-smacking bread recipes for kids that are sure to hit a homerun! These recipes are super easy, nutritious, and will satisfy your little monster's late-night hunger pangs and how!
Let's begin…
The Classic French Toast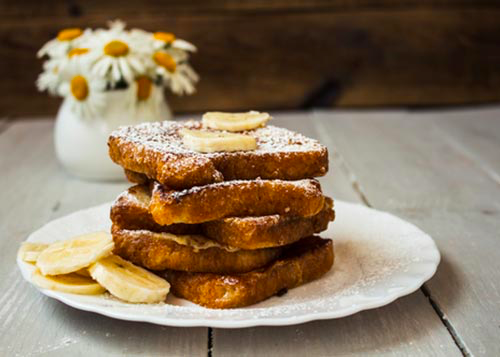 This had to be on the top of my priority list for easy and yummy recipes! I typically avoid adding any vegetables, however, if you want you can add finely chopped onions, tomatoes, and green chillies to impart a more savoury taste.
Ingredients
Milk
Eggs
Powdered sugar/normal sugar
Cinnamon powder
Butter (for frying)
Whole wheat bread
Recipe
Beat the eggs in a bowl.
Add some milk, sugar, and cinnamon powder. Mix thoroughly.
Dip the bread slices in the batter and fry in butter.
When one side of the bread is partially done, flip the toast and fry from the other side as well.
Fry till the slice turns brown, then serve hot with some strawberries!
The Corny Sandwich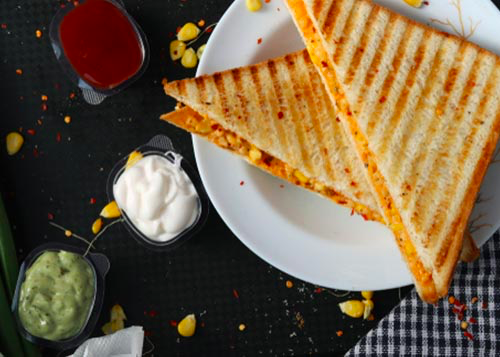 Corn and capsicum sandwiches are my all-time favourite and were immensely popular among my friends way back when I was in school! This is a hand-me-down recipe from my mother, and I still gobble it down like a baby dinosaur whenever she prepares it.
Ingredients
Corn
Capsicum
Cheese slices
Salt and pepper
Whole wheat bread
Recipe
Take two slices of bread and place finely chopped capsicum, corn, and 1 slice of cheese between them.
Throw in a dash of pepper and a pinch of salt.
Toast the sandwich on a pan on medium flame till it turns brown and crusty.
Serve hot with some potato chips!
The Spicy-Cheesy Grilled Sandwich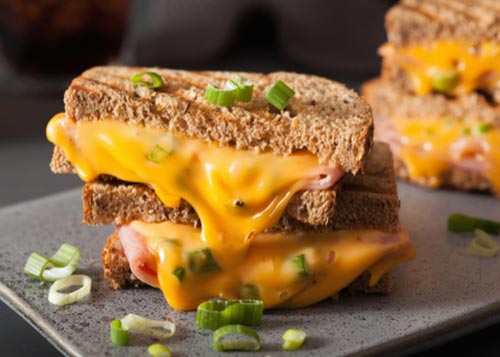 I used to refer to this sandwich as 'The Heartattack' for the sheer amount of cheese that my mother used to put in! However, the divine taste of this classic sandwich stayed with me and I still find myself sneaking into the kitchen to make one in the middle of the night.
Ingredients
Grated Mozzarella Cheese
Green chillies
Butter
Vegetables – onions, carrots, and tomatoes (optional)
Recipe
Mix the grated cheese, green chillies, and butter in a bowl.
Spread this out on a bread slice and bake in the oven for about two minutes!
Serve hot with ketchup!
The Pseudo Sandwich or Frankie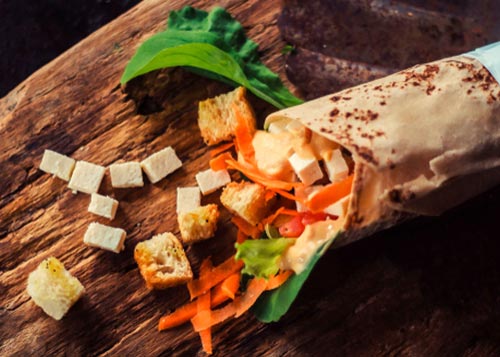 This Chinese sauce-based recipe was a slam dunk in my house! It's perfect for your kid's lunchbox as the flavour offers a surprising twist and it is super healthy!
Ingredients
Ginger
Garlic
Red chilli powder
Green chillies
Soy sauce
Vinegar
Salt
Vegetables – Tomatoes, onions, cabbage, and capsicum
Flatbread
Recipe
Mix finely chopped ginger, garlic, and green chillies together with some soy sauce, red chilli powder, salt, and vinegar.
Add this mixture to a tbsp of heated olive oil in a pan and mix well. Your Schezwan sauce is ready!
Next, mix chopped vegetables with the sauce.
Lay it down on the flatbread and microwave for about 5 minutes.
Serve Frankie with ketchup or green chutney!
These easy-peasy bread recipes for kids are like a doorway to my childhood memories and I still obsess over how they're made. They manage to find a way into my meals every week, sometimes twice in a day!
Do let me know which recipes your kids liked the most!