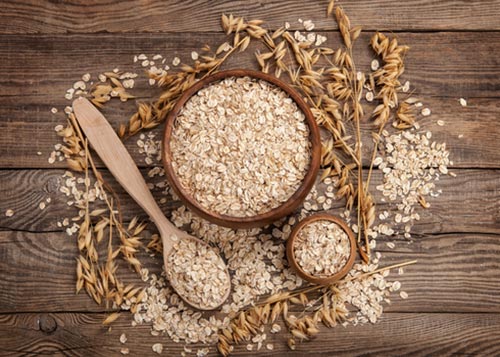 I loved oatmeal as a young kid and still do. Plain and simple oatmeal has always been my comfort food. My kids, unfortunately, do not share the same feelings. They find oatmeal to be incredibly boring and throw a fit every time they have to eat it. Since simple oatmeal wasn't doing the trick anymore, I decided to play around with different recipes and it totally worked! I learnt how to incorporate oats into delicious dishes. These fun and delicious oatmeal recipes are approved by my children and chances are your children will love it too!

Oatmeal and banana pancakes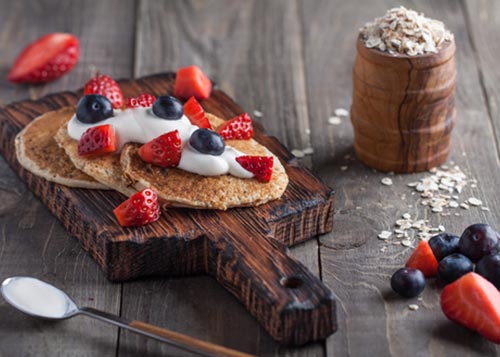 Ingredients
2 whole eggs and 1 egg white
1 ripe banana
½ milk of your choice
1 ½ spoon baking powder
1 ½ cup rolled oats
A few drops of vanilla extract (optional)
⅓ spoon Cinnamon
Cooking spray/butter
Recipe
Add milk, eggs, baking powder, cinnamon, vanilla, oats, and banana to the blender. Cut the banana into small chunks before adding it to the blender.
Blend until the mixture is smooth without any lumps or chunks. This makes the pancake batter.
Heat a pan on medium heat and once it's warm, spray it with cooking spray or coat the pan with butter.
Pour the batter on the pan in circles of your choice.
Let the pancakes cook thoroughly on one side for about 3 minutes. When they are done cooking on one side, flip them over to the other side and cook them for another 2-3 minutes.
Top it off with your child's favourite syrup and toppings.
I let my children choose their own toppings and they get really creative with it. The best topping combination up until now has been greek yoghurt and fresh berries.

Savoury mushroom oatmeal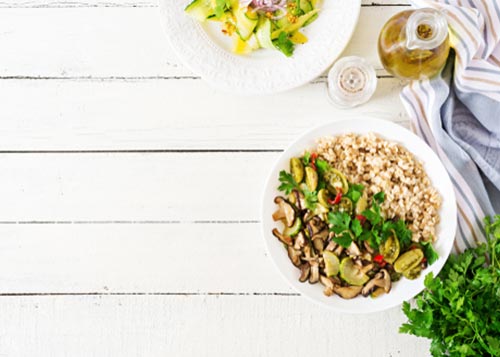 Ingredients
½ cup of oats
1 cup sliced mushrooms
2 cloves of finely chopped garlic
Salt and pepper
2 tbsp olive oil
2 cups of water
Soy sauce (optional)
Coriander for garnish (optional)
Recipe
Bring a pan to medium heat and add a tablespoon of olive oil to the pan.
Add the sliced mushrooms to the pan and cook for 10 minutes or until they are thoroughly cooked. Remember to stir them around when they are cooking.
Add the chopped garlic and oats to the cooked mushrooms and cook for 30 seconds.
Add soy sauce to the mixture.
After the soy sauce has mixed well with the mixture, add water to the mixture.
Change the heat to get the water boiling.
Once the water starts boiling, simmer down the heat and cook for 10-14 minutes.
Add salt and pepper when the oats are ready and garnish with coriander.
You can switch mushrooms for vegetables of your choice and add in more spices if needed.

Oats crusted chicken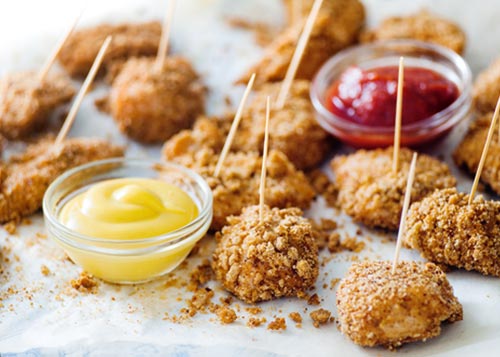 3 cloves of chopped garlic (to ensure they are chopped finely, add them in a processor)
Bowl of olive oil
Oregano
Chilli powder
Salt
Chicken breasts halved
Bowl of oats
Parmesan
Recipe
Combine the oats, spices, garlic, and parmesan cheese in a blender.
Blend it until the mixture forms a flour-like texture.
Transfer the mixture into a bowl.
Dip the halved chicken breast in olive oil and then coat it with the oats mixture.
Spray a large baking dish with cooking spray and place the ready chicken pieces on it.
If the oats mixture on the chicken looks too dry, spray it with some more olive oil.
Bake the chicken until it's cooked.
Serve it with a dip of your choice.
Tropical oatmeal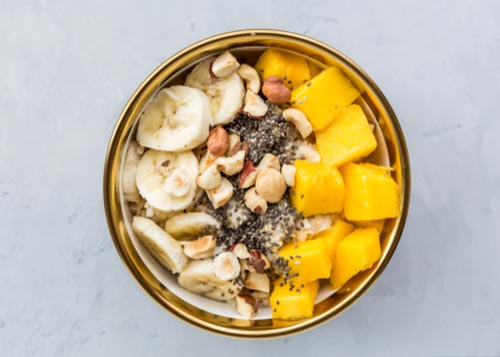 Ingredients
½ cup oats
1 Mango sliced
Chia seeds
1 Banana chopped
Almonds
Chocolate shavings
1 cup milk
1 tbsp honey
Recipe
Add oats and milk in a saucepan and let it cook on medium flame. Make sure to keep stirring the oatmeal in between to ensure it doesn't get stuck to the pan.
Once the oatmeal is cooked. Top it off with the mangoes, chia seeds, almonds, bananas, and chocolate shavings.
Drizzle honey on top after everything is added.
Let me know how it turned out if you try any of these recipes! Also, do you have any fun and delicious oatmeal recipes? Let us know in the comments below, pretty sure my kids will tire of these dishes soon!