We've all been there – it's raining outside and we're stuck with a bunch of bored kids at home. TV and mobile games keep them occupied only for so long before they are nagging at you to let them play. Here are a few unique indoor games for kids that will keep them occupied and happy. The best part? You can join in too if the gloomy weather has got you down!
1. Build a fort
You don't need state-of-the-art construction materials to build this fort. A few cardboard boxes, chairs, pillows, and sheets will suffice. This is an incredibly fun activity for the family and will have your kids occupied for at least half the day!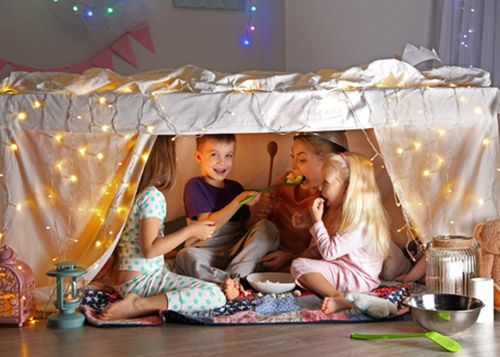 How to play:
If you have an abundance of cardboard boxes, rack them up to form a wall and throw a blanket over it to form the perfect fort. If you do not have cardboard boxes, you can use chairs for the walls. Put up a few soft pillows inside along with toys and books and we guarantee your kids will love it. So much so that you will probably have a hard time dragging them away from the fort.
2. Twister-
If there is one game that will have your children roaring with laughter, it's Twister! This game is even more fun when there are more than two people playing it.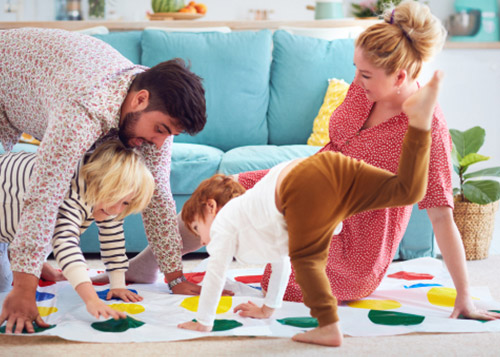 How to play:
You can either purchase a game of twister or make one yourself by pasting circles of construction paper on a plastic sheet. Don't worry too much about the rules, just have fun with it!
3. Bouncy ball catch
This simple game of ping pong balls and cups requires focus, aim, and at least two players.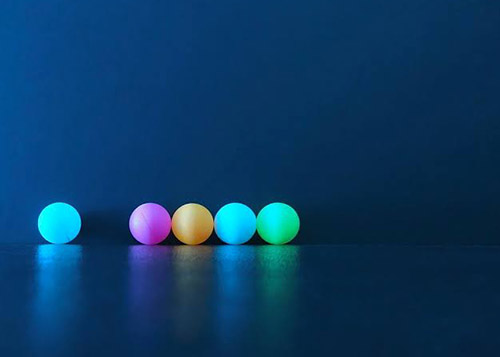 How to play:
Have your kids stand on the opposite sides at a good distance. One throws the ping pong ball while the other tries to catch it with their cup. Both get equal chances to catch the ball.
4. Smooth race
This game is best suited for rainy days when your kids want to do something fun to beat away the blues.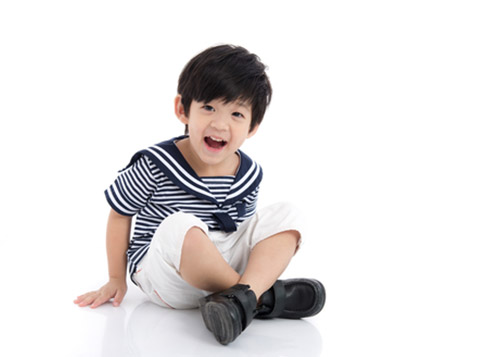 How to play:
A smooth floor works best for this game. Get your children to pull a pillowcase over their lower half or sit on it and race each other by scooting using their arms and legs. This works on carpeted floors too but the race might take a little longer.
5. Basket-ball
If you can install a hoop in your living room without your spouse staring daggers at you, good for you. But if you can't, here is a fun variation of indoor basketball for kids.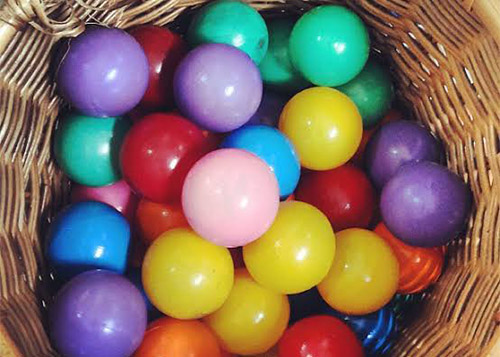 How to play:
This variation of basketball requires a few baskets and plastic balls. Arrange the baskets at a distance from each other. Add points to each basket with the highest point allotted to the furthest basket. Let the tiny tots take turns throwing balls into the basket. Whoever scores the most within a minute wins.
6. Puzzle
Everyone loves jigsaw puzzles, especially kids! They are not only fun but they also help develop problem-solving kids!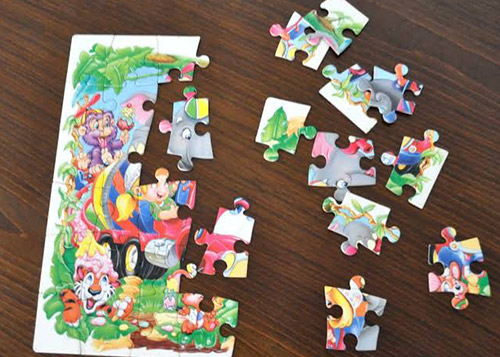 How to play:
Choose a jigsaw puzzle that's appropriate for your child's age. You can even amp up the fun by turning it into a competition of who can solve the puzzle faster.
7. Mission impossible
This is one of the best unique indoor games for kids. Your kids will feel like secret agents with this game. The only problem with this game is once it's over, they'll want to play it again and again!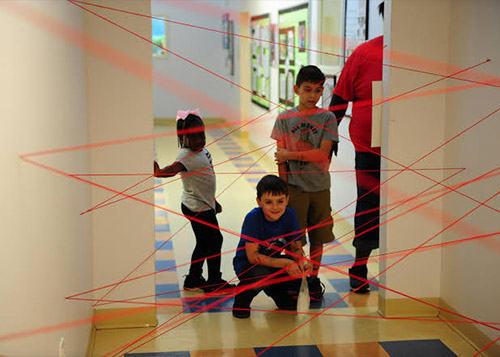 How to play:
Use crepe paper and tape to create tricky mazes in your kid's room or the living room. Tape them high and low to make it tougher for your kids. You can even make it a part of a treasure hunt. We leave the planning up to you.
Still not satisfied? Well, you should check these out then!
Do your kids enjoy playing indoor games or do they prefer TV and mobile games? Let us know in the comments below!